Hotel Reservation Software: Drive More Direct Bookings
RoomRaccoon's hotel reservation software is designed to help you drive more direct bookings and streamline your hotel operations from a single, easy-to-navigate platform.
Try free for 30 days. No credit card. Cancel anytime.
Hotel Reservation Software Preferred by Hoteliers in the UK
Looking for an all-in-one hotel booking software? RoomRaccoon is the preferred choice of thousands of independent hoteliers across the US.
Property Management
Manage A-Z of your operations from a single screen. From guest management and reporting to online guest services, we automate tasks to save you valuable time.
Channel Management​
Connect to local and global booking channels, including Booking.com, Expedia, and Airbnb. Sync your bookings within 5 seconds across all sales channels.
Hotel Booking Engine​
Process bookings on your website within minutes. Our hotel booking engine makes it easy for guests to book directly using any device. Zero-added commissions!
Integrated Payment Module
Make it easy, fast and secure for your guests to pay at any point in the customer journey, online or at the front desk. ​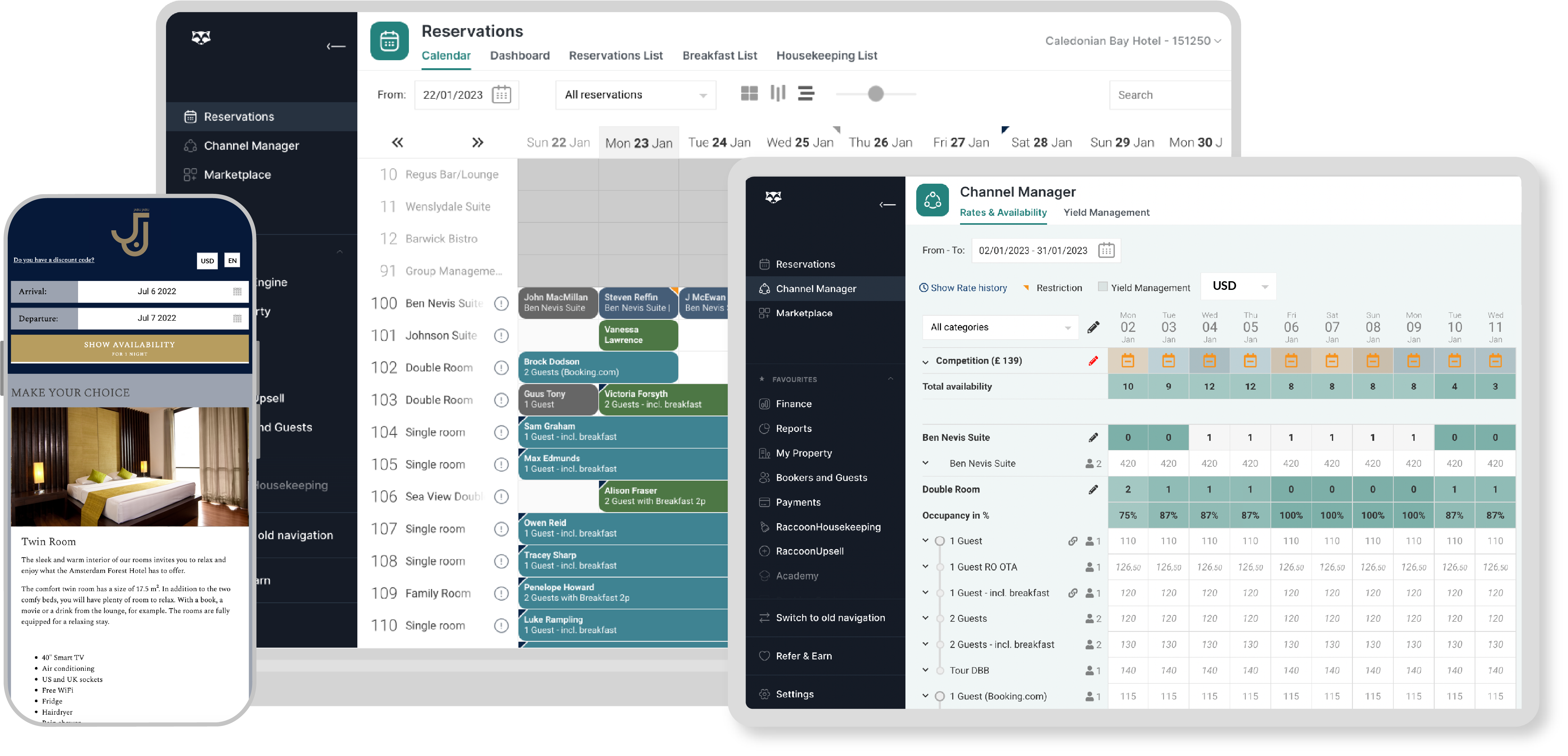 Award-Winning Hotel Reservation Software

Tailor Our Smart Hotel Reservation Software to Your Operations
We're passionate about understanding your unique operating environment so we can directly tailor our hotel management software to your setup. Explore more fully integrated features!
Yield Manager
Use yield rules to ensure you get the most out of each room sold. These rules will adjust your rates based on room-sell probability.
Online check-in and check-out
Provide your guests with convenient self-service options and save time!
400 + integrations
Integrate with your favorite apps and third-party solutions.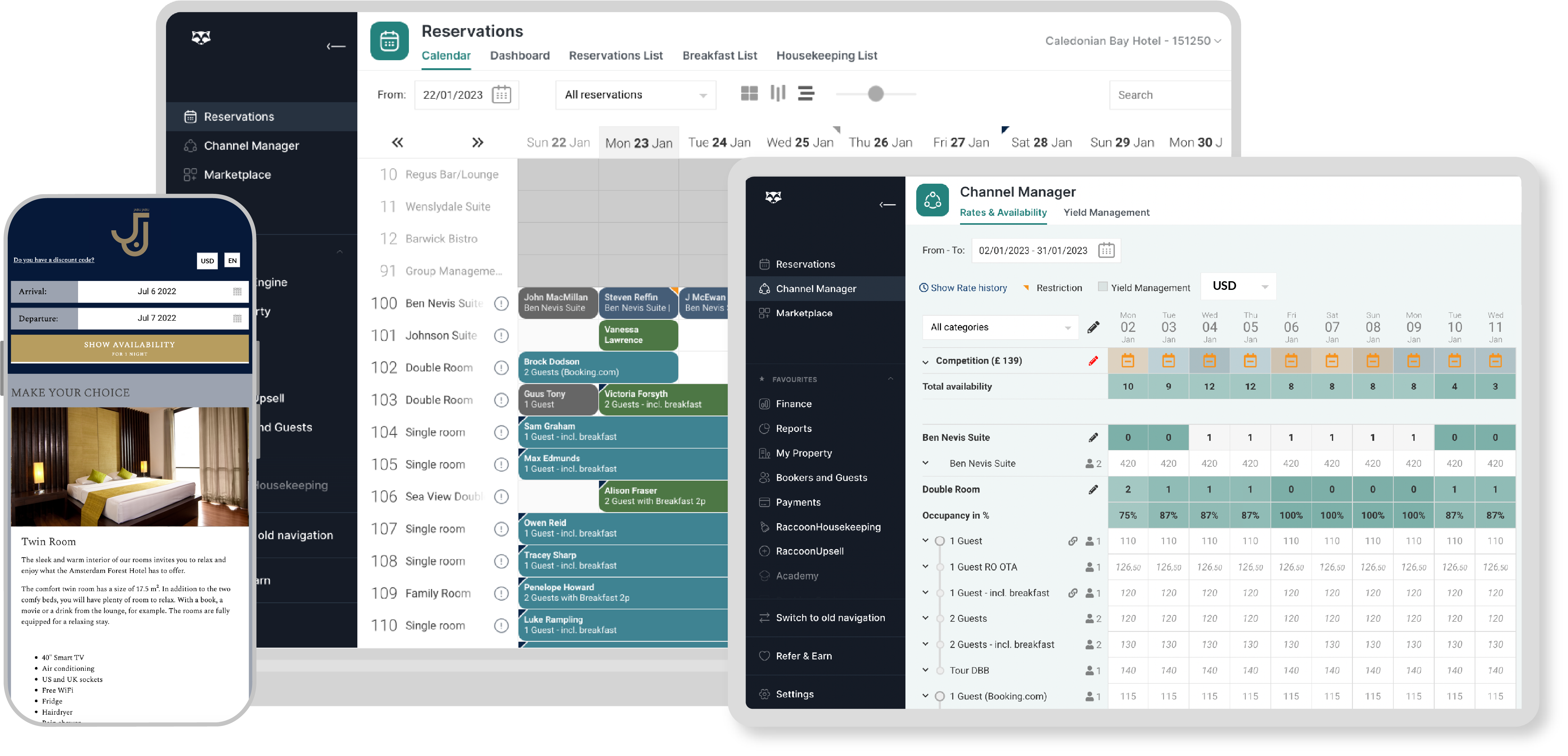 Automated upselling
Upsell extra services and room upgrades with an automated guest service menu.
User roles and permissions
When allocating tasks, provide different access levels to your staff.
Easy-view calendar
All your bookings in one place with real-time statuses for easy viewing.
Hotel Reservation System Reviews from Real Hoteliers
Still doubting the power of automation? Here's what hoteliers like you say about our hotel reservation software.
Exceptional professionalism
"RoomRaccooon has transformed our booking management system overnight. The professionalism it allows us to deliver to our clients is exceptional."
---
Mariessa Devlin, Gleneagles Luxury Apartments
"What is RoomRaccoon in one word……. BRILLIANT! It has made my life as a B&B owner so much easier"
---
Owner, 58 On Hume
"RoomRaccoon's best features are its user-friendliness, modernity, connection to our online payment system and other platforms, as well as the constant evolution and improvement."
---
Property owner, Mr. Kahawa Waterfront Suites
"This is the best and easiest booking and channel management system I found available on the market. The team is really friendly and always ready to help in case of any queries. Will recommend without hesitation!"
---
General Manager, Ocean Sports
FAQs About Hotel Reservation Software
1
What is hotel reservation software?
Hotel reservation software is software designed to help hoteliers in the United Kingdom and Ireland manage the booking process, including taking reservations, assigning rooms, and processing payments. It is usually cloud-based and can be integrated with other hotel applications, such as digital room keys or point-of-sale systems.
2
How much does hotel reservation software cost?
Depending on your operational needs, RoomRaccoon offers flexible subscription packages with upgrades of your choice starting from as low as £119 per month. Our hotel reservation software is available through various subscription packages. The cost of the subscription depends on the number of rooms at your property, the subscription period (monthly or annually), and the chosen subscription: Entry, Starter, Premium, or Enterprise. RoomRaccoon offers
transparent pricing
that's easily available on our website. With a few clicks, you can input your property's size (amount of rooms) and check out the exact costs of each subscription option.
3
What makes the best hotel reservation software?
The best hotel reservation software, like RoomRaccoon's award-winning platform, is one that manages multiple reservations, shows guest history, offers various payment options, provides detailed reporting, integrates with existing systems, and is customizable to meet your hotel's needs. Additionally, it has robust online booking capabilities, is user-friendly, and offers various promotional tools like
Raccoon Upsell
and booking engine add-ons.
4
What does hotel reservation software do best?
RoomRaccoon's hotel reservation software helps you increase your direct bookings with its built-in booking engine that allows website visitors to book in just five simple steps. Additional features such as the discount widget, Raccoon Price Checker, and
booking engine
add-ons are sure to make your online presence even more successful.
5
How does hotel reservation software work?
The primary purpose of hotel reservation software is to automate the reservation process, freeing up front desk staff from having to manage bookings manually. It also ensures that bookings are tracked, and availability is accurately displayed. All-in-one hotel reservation software, like RoomRaccoon, offers additional modules like channel management and revenue management to expand your distribution strategy and develop a smart pricing strategy that improves your bottom line.