Hotel Management Software: The All-in-One Solution for Your Hotel Operations
RoomRaccoon's hotel management software is used by hoteliers across the UK. Find out how it can help you run your hotel more effectively.
Try free for 30 days. No credit card. Cancel anytime.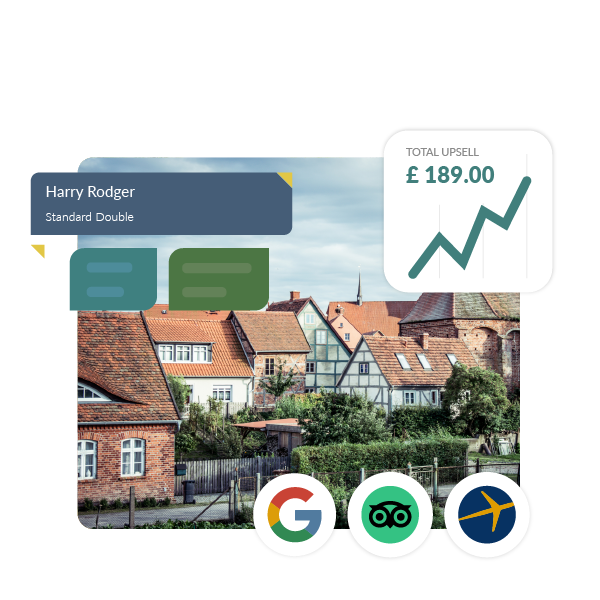 Master Your Operations With Hotel Management Software
RoomRaccoon's hotel booking software is the #1 solution for UK independent hoteliers. It provides a comprehensive platform with integrated modules.
Property Management
Manage your bookings on an easy-view reservation calendar and streamline housekeeping, guest management, reporting, and more.
Channel Management
Connect to local and global booking channels, including Booking.com, Expedia, and Airbnb. Manage rate plans and automate rate updates across all channels.
Hotel Booking Engine
Let guests book on your website in just five easy steps. Include add-ons like late check-out and a box of chocolates to upsell and boost guest satisfaction.
Online Payments
With payment requests, you can make it easy, fast, and secure for your guests to pay at any point in their stay. ​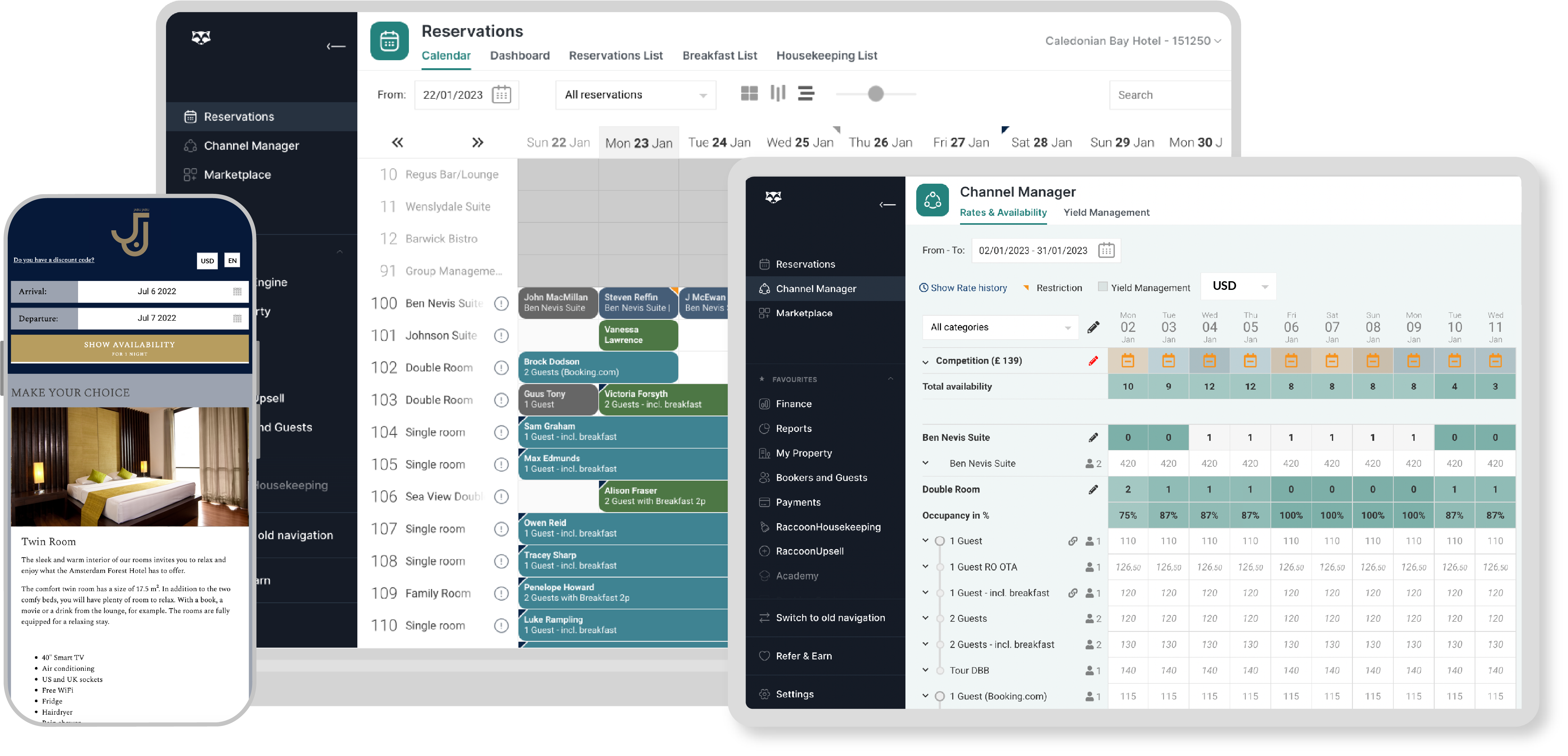 Award-Winning Hotel Management Software

Tailor Our Smart Hotel Management Software to Your Operations
We're passionate about understanding your unique operating environment to directly tailor our software to your setup. Explore more fully integrated features!
Yield manager
Use yield rules to maximize revenue. This pricing tool will optimize your rates based on room-sell probability.
Online check-in and check-out.
Provide your guests with convenient self-service options and save time!
400 + integrations
Explore our Marketplace and integrate with your favorite apps and third-party solutions.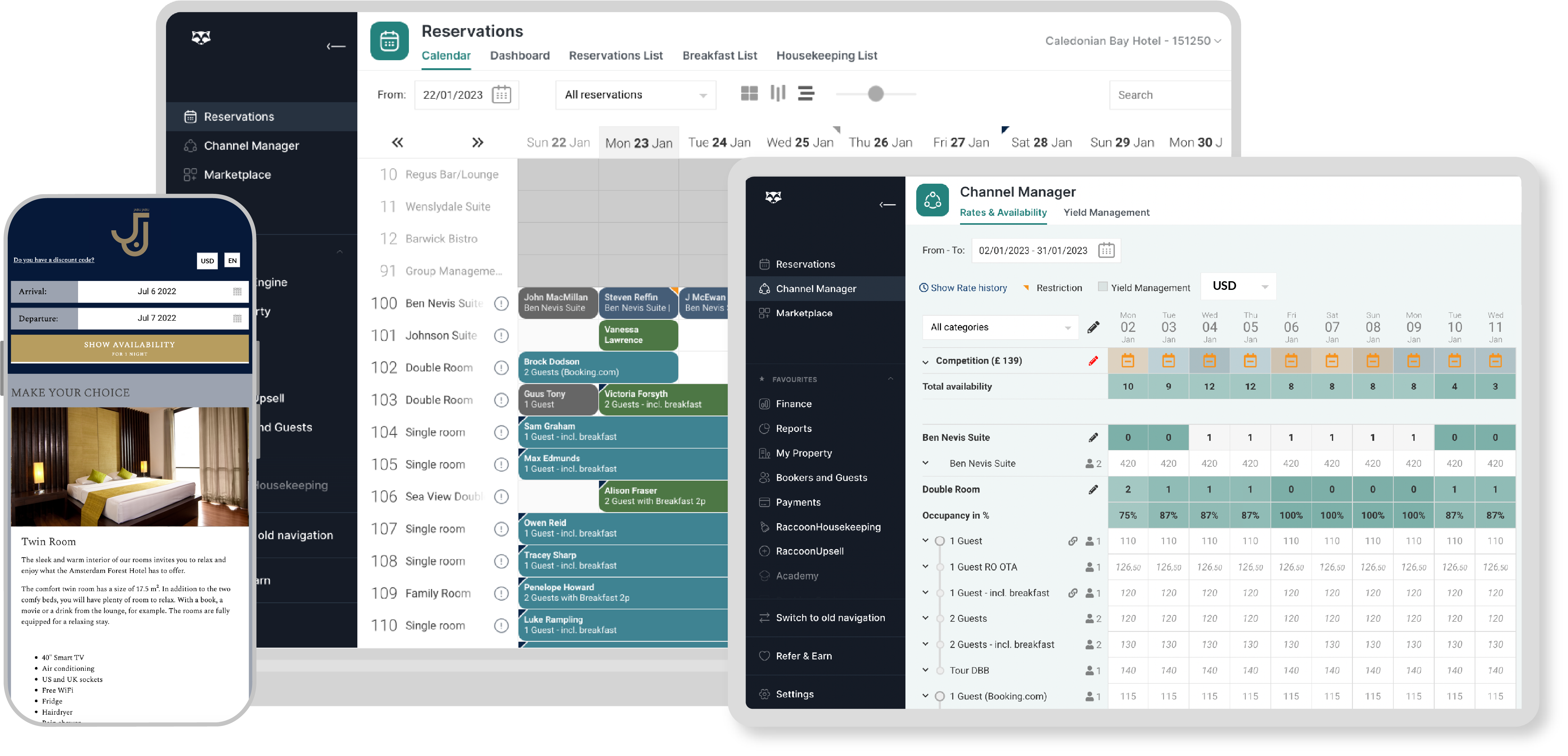 Automated upselling
Upsell ancillary services and room upgrades with a digital guest service menu.
User roles and permissions
When allocating tasks, provide different access levels to your staff.
Easy-view calendar
All your bookings in one place with real-time statuses for easy viewing.
Hotel Management Software Reviews from Real Hoteliers
Exceptional professionalism
"RoomRaccooon has transformed our booking management system overnight. The professionalism it allows us to deliver to our clients is exceptional."
---
Mariessa Devlin, Gleneagles Luxury Apartments
"What is RoomRaccoon in one word……. BRILLIANT! It has made my life as a B&B owner so much easier"
---
Owner, 58 On Hume
"RoomRaccoon's best features are its user-friendliness, modernity, connection to our online payment system and other platforms, as well as the constant evolution and improvement."
---
Property owner, Mr. Kahawa Waterfront Suites
"This is the best and easiest booking and channel management system I found available on the market. The team is really friendly and always ready to help in case of any queries. Will recommend without hesitation!"
---
General Manager, Ocean Sports
FAQs About Hotel Management Software
1
What is hotel management software?
Hotel management software like RoomRaccoon is an all-encompassing platform that streamlines all aspects of hotel operations. From guest bookings and reservations to inventory management and staff scheduling, hotel management software can help hotels run more efficiently and maximize revenue with smart pricing and upsell tools. Are you the owner or manager of a small hotel? If so, you should learn how RoomRaccoon's small hotel management software can help you improve your business.
2
What is the best hotel management software?
The most effective hotel management software offers real technological solutions to the day-to-day operational challenges that hoteliers face, helping them save time, increase productivity, improve their bottom line and enhance guest experiences. One way to determine the best hotel management software for your business is to read online reviews. Hoteliers on Hotel Tech Report, the largest review site for hotel management software providers, voted RoomRaccoon as the best hotel management software in 2020 and 2021. You can also read real-world case studies that show how hotels are improving their performance with hotel reservation software.
3
How much does hotel management software cost?
The cost will vary based on your operational needs and the size of your property (number of rooms). RoomRaccoon hotel booking software is available in four packages with upgrades of your choice: Entry, Starter, Premium, and Enterprise. The Entry package includes all the essentials and starts from as low as £119 per month. RoomRaccoon pricing is readily available on our website. You can input the number of rooms you have and see the exact cost of each subscription option with just a few clicks.
4
What to consider when looking for new hotel management software?
Hotel management software that can be easily customized to meet the specific needs of your hotel is essential, as no two hotels are alike. RoomRaccoon's system is designed with three essential modules to cater to the specific needs of independent properties: a website booking engine, a channel manager, and a property management system (PMS). But we don't stop there. We offer a range of upgrades to tailor our platform to align with your business. It is also important to consider the initial setup and availability of support. At RoomRaccoon, we'll help you set up your property, importing all your data so nothing is lost in the transition. You can count on us for dedicated implementation sessions to walk you through each module, preparing you for taking your first bookings! You can always contact us for assistance if you have any questions, as we offer phone and ticket support from 9 am to 5 pm and weekend support.
5
How does hotel management software work?
It's a computer program that helps hotels handle reservations, check-ins, check-outs, guest information, housekeeping, and payments efficiently. It also integrates with other systems, such as Booking.com, EposNow, and Nuki door lock. It manages online bookings and enhances guest experiences through digital services like RaccoonUpsell. The best hotel management software maximizes revenue with smart pricing tools to help revenue managers price rooms optimally. Essentially, it streamlines hotel operations, improves guest service, and increases revenue.