Hotel Booking Software: Simplify and Elevate the Guest Journey

With RoomRaccoon's hotel booking software, you'll have access to top-notch tools that will allow you to manage your operations and boost your bookings. Trust us to help you take your hotel business to the next level. Try free for 30 days—no credit card. Cancel anytime.
Streamline Hotel Operations and Boost Direct Bookings
Make the reservation process quick and efficient with hotel booking software.
Property Management1
Organise bookings, housekeeping, guest management, and reporting with an easy-to-use reservation calendar.
Channel Management
By connecting to top booking channels like Booking.com, Expedia, and Airbnb, you can effortlessly manage rates and keep them up-to-date across all channels.
Hotel Booking Engine
Book with us in five easy steps on our website and enjoy add-ons like late check-out and a box of chocolates to make your stay extra special!
Online Payments
Make payments easy, fast, and secure for guests throughout their stay.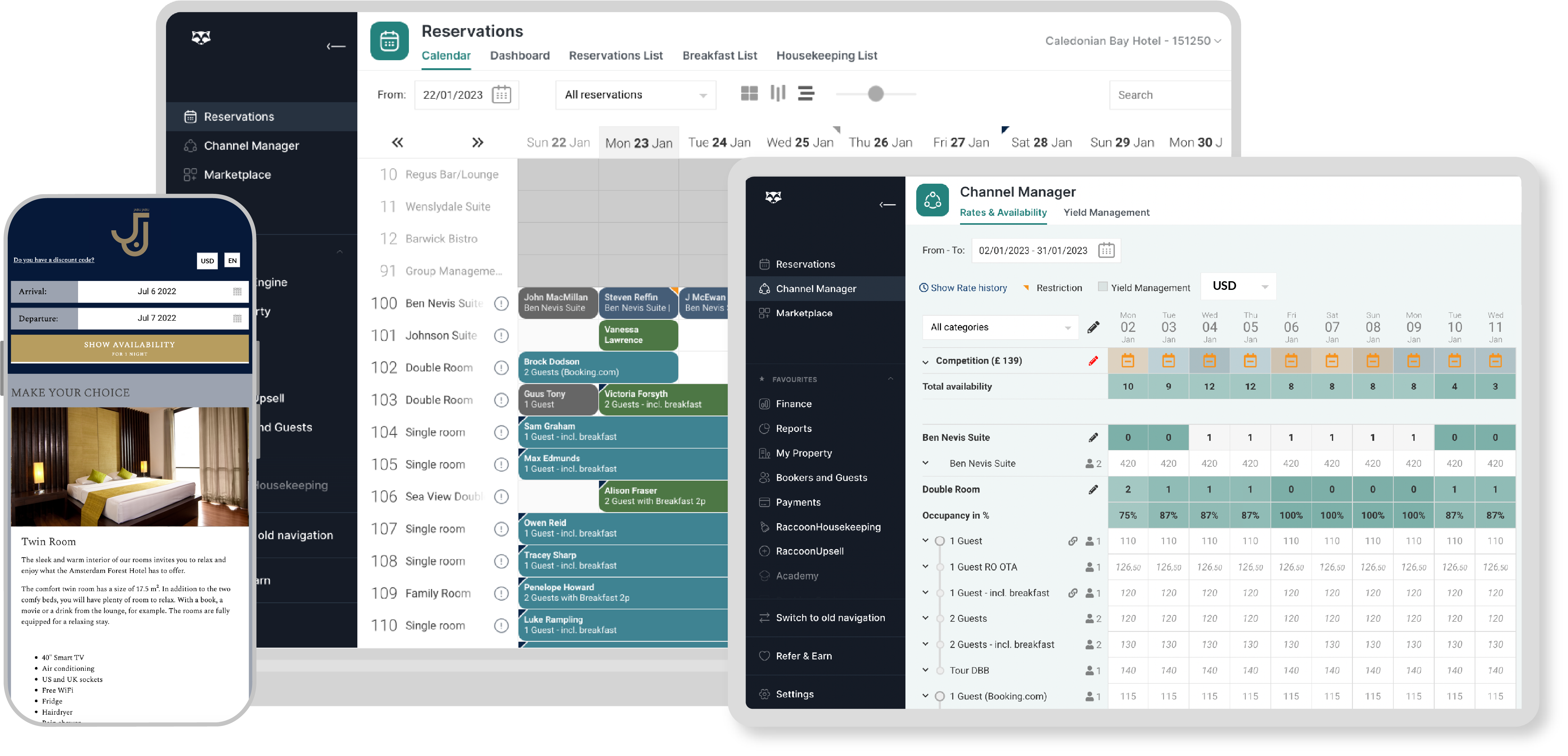 Award-Winning Software for Booking Hotels in the UK

Customise Our Intelligent Hotel Booking Software for Your Business Needs
Yield manager
Increase your revenue by using yield rules to optimise rates for the probability of selling rooms.
Online check-in and check-out.
Offer your guests the ease of self-service and save time!
400 + integrations
Effortlessly incorporate our Marketplace with your preferred applications and external solutions by exploring it now.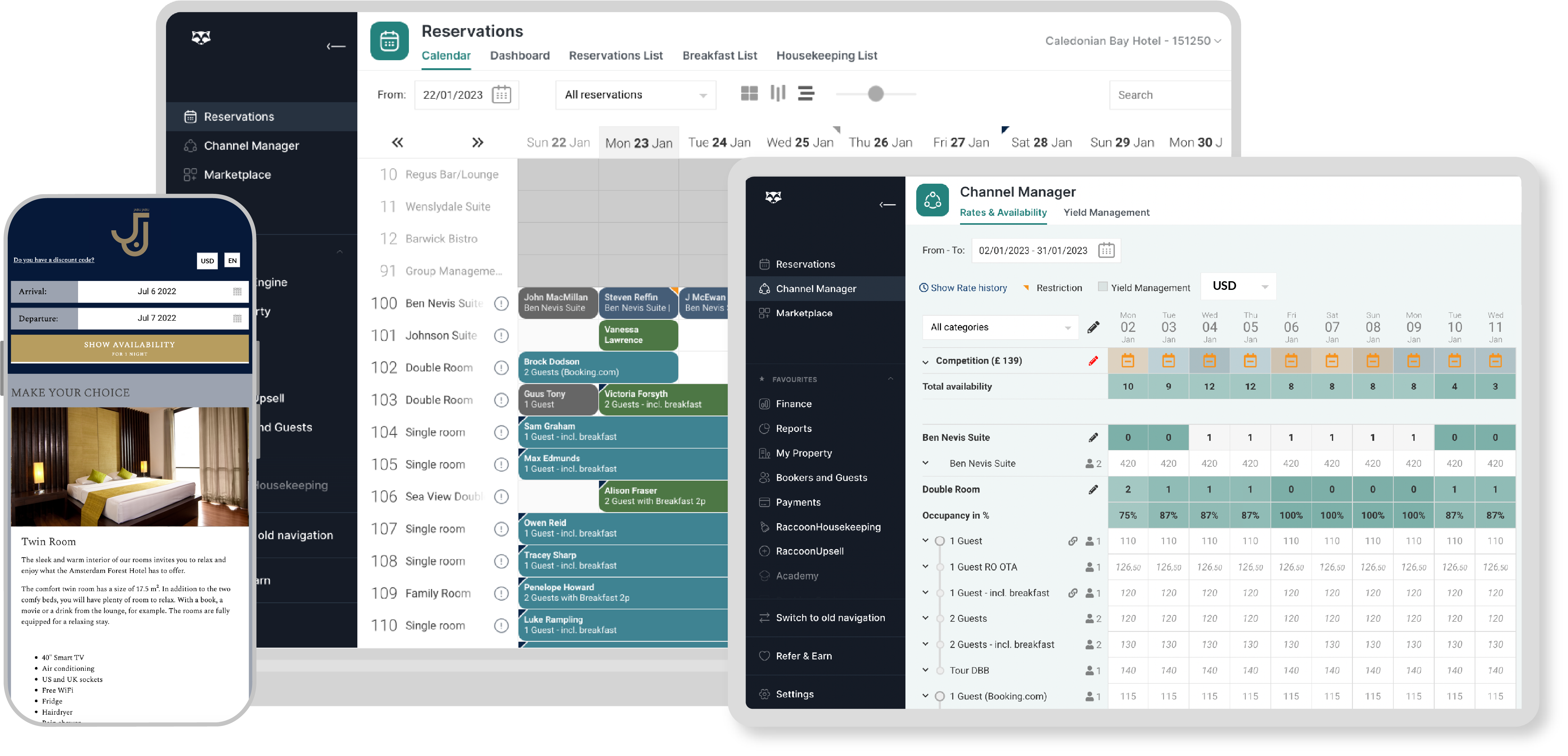 Automated upselling
Increase revenue by offering additional services and room upgrades through a user-friendly digital guest service menu.
User roles and permissions
Provide levels of access to team members when delegating tasks.
Easy-view calendar
Easily manage all your bookings in one location and stay up-to-date with real-time updates on their statuses, making tracking effortless.
Our Hotel Booking Software Has Been Receiving Exceptional Reviews in the UK.
Hoteliers share their transformational experiences with our hotel booking software.
Exceptional professionalism
"RoomRaccooon has transformed our booking management system overnight. The professionalism it allows us to deliver to our clients is exceptional."
---
Mariessa Devlin, Gleneagles Luxury Apartments
"What is RoomRaccoon in one word……. BRILLIANT! It has made my life as a B&B owner so much easier"
---
Owner, 58 On Hume
"RoomRaccoon's best features are its user-friendliness, modernity, connection to our online payment system and other platforms, as well as the constant evolution and improvement."
---
Property owner, Mr. Kahawa Waterfront Suites
"This is the best and easiest booking and channel management system I found available on the market. The team is really friendly and always ready to help in case of any queries. Will recommend without hesitation!"
---
General Manager, Ocean Sports
FAQs About Hotel Booking Software
1
What is hotel booking software, and how does it work?
Hotel booking software is a computer program or application where users input their travel dates, destination, and room type. This application simplifies reserving and managing hotel rooms and accommodations. Much like
hotel reservation software
RoomRaccoon's hotel booking software searches its database and connects to various hotel databases to retrieve matching options.
2
What should I look for in hotel booking software?
When choosing hotel booking software, it's essential to consider a range of features and functionalities to ensure that it meets your needs and provides a seamless experience for you and your users. Here are the key features to look out for: User-friendly interface, real-time availability,
hotel management software
, multiple and secure payment options, flexible room and rate management,
reporting and analytics
,
reviews and ratings
3
How much does hotel booking software cost?
RoomRaccoon offers flexible pricing, starting at £119 per month based on property size. You can choose from Entry, Starter, Premium, or Enterprise subscription models based on the number of rooms, payment method, and subscription period. Here's a detailed
pricing structure
.
4
Is hotel booking software suitable for small businesses?
Hotel booking software can benefit small businesses in the hospitality industry. RoomRaccoon offers
small hotel management software
for smaller properties (under 20 rooms) and hotel booking software for those with 20-50 rooms. It streamlines reservation management, online booking, room availability, and guest profiles. Our all-in-one
property management system
integrates with online travel agencies, preventing overbooking for personalised service.
5
How can hotel booking software enhance the guest experience?
With hotel software, you can create personalized offers based on guest preferences, such as customised deals and upgrades. Additionally,
hotel front desk software
can efficiently process online check-in and check-out, from issuing room keys to handling payment transactions. Hotel booking software also enhances the guest experience with effective communication tools — such as email templates that you can personalise and guest messaging to keep guests informed about their reservations and stay.
6
What security measures are implemented in hotel booking software?
Hotel booking software implements various security measures to protect sensitive guest information and financial data and ensure the system's overall safety. These security measures include data encryption, multi-factor authentication, user-access control, privacy compliance, and regular security audits.